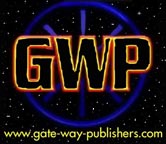 Fiction
Nonfiction
Quick Reads
Author Info
FAQ
Free EBooks
Contact Us
Visit our new
Poster Shop!

The desire to be published, to be read by others, burns in most authors' hearts. If you consider yourself a writer, so much the better, because then it becomes the words that are important and not the format. E-publishing can open new doorways for you! Fast publishing processes and the world as your market.
Gate Way Publishers is an internet-based, non-subsidy, royalty paying electronic publisher dedicated to making available high quality works of fiction and nonfiction in e-book formats. We specialize in paranormal, metaphysical and true-life ghost stories, as well as ebooks about UFO sightings, psychic phenomena and alien abductions. Please browse our Genres page for further information on what we are interested in e-publishing. Please see our e-publishing submission policies. We currently have an Open Call for submissions in all accepted categories and genres. Before responding, however, please review our manuscript guidelines.
Gate Way Publishers does not charge writers a fee to publish their works. We provide minimal editing services, so authors should be sure to edit and proofread their manuscripts before submitting.
Gate Way Publishers pays its writers a royalty of 40 percent of the U.S. retail download price on all sales of their book generated from our www.gate-way-publishers.com website. On outside sales made through online distributors, bookstores and other organizations, authors are compensated at 40 percent of the download prices received from the outside vendor for the electronic books, after it has deducted its fees.
Please note that Gate Way Publishers does NOT issue ISBN numbers. We are part of the electronic revolution/evolution that will use EBN numbers to identify each copy of each book sold.If this changes in the future we will post the information here on the site. Right now in the e-publishing industry there is controversy regarding the need for ISBN numbers. There are on-going discussions about establishing numbers unique to e-publishing. This would be a good idea for tracking and allowing products to be sold at multiple sites. In the meantime, however, all electronic formats of an author's book will be identified by an individual Electronic Book Number (EBN).